こちらの記事は英語版です。
日本語版はこちら。

関連記事
天橋立の観光船往復をしてきて、カモメのえさやりがおもしろすぎたのでその体験をお伝えしていきます。 もちろん汽船の上から見る景色は絶景なんですよ! でもそれよりカモメがわっさわっさ寄ってきてくれるのが嬉しくて楽[…]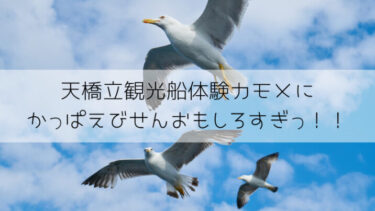 I took a round-trip sightseeing boat trip to Amanohashidate, and the seagull feeding was too interesting for me, so I will tell you about that experience.
Of course, the view from the steamer is spectacular!
But more importantly, I was so happy to see the seagulls coming up to me, and I'll tell you what it was like.
The route introduced in this article is From Amanohashidate Station, go to Chionji Temple in Amanohashidate, and then take a sightseeing boat to and from the temple (between Fuchu and Monju). From there, we will take a sightseeing boat to Chionji Temple and back (between Fuchu and Monju), and then come back to Chionji Temple.
I will take you on a steamer trip with me.
A fun way to experience the Amanohashidate sightseeing boat and feed the seagulls with Kappa Ebisen.
First, we went from Amanohashidate Station to Chionji Temple.
We took the train to Amanohashidate.
We took the train to Amanohashidate, and it took us 5 or 10 minutes to walk to Chion-ji Temple.
We took this time because we had our children with us (6, 2, and 0 years old), but if you're just going with adults, I'm sure you can go faster.
Arrived at Chionji Temple!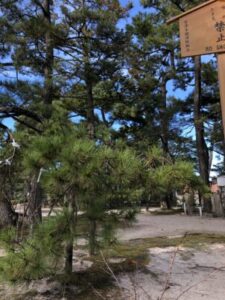 There is a parking lot at Chionji Temple, so if you want to go there by car, it is best to park there.
If you look diagonally to the right from this photo, you will see the ticket office for the sightseeing boat.
It's a bit more of a walk.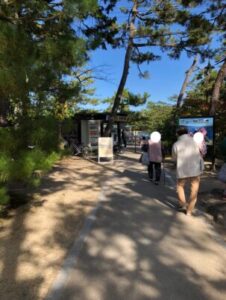 The ticket for the sightseeing boat was located in a building near the sea, further than the ticket office marked in blue letters on yellow.
It was located in a building near the sea.
The tickets we used were
Amanohashidate sightseeing boat (Amanohashidate – Ichinomiya Pier) round trip
General 1,200 yen
Elementary school students and older: 600 yen
All the children were under elementary school age, so it was free.
And the train ride to Amanohashidate is also free for all children.
Thank goodness.
Amanohashidate sightseeing boat (Amanohashidate – Ichinomiya Pier) one way
General 700 yen
Elementary school students: 350 yen
We didn't go this time, but there is also a Kasamatsu sightseeing ticket that takes you to the Kasamatsu Park cable car/lift.
Amanohashidate Sightseeing Boat + Kasamatsu Park Cable Car/Lift
One way: Adults 1,200 yen, Elementary school students 600 yen
Round trip: Adult: 1,600 yen, Elementary school student: 800 yen
In addition, you can rent bicycles.
Bicycle rental tickets are also available for purchase.
We had about 30 minutes before departure time, so we waited in the waiting area.
In the meantime, I bought some "Kappa Ebisen" to feed the seagulls!
100 yen per bag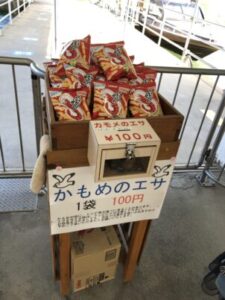 It's like a small aquarium with fish tanks.
Children can also enjoy it.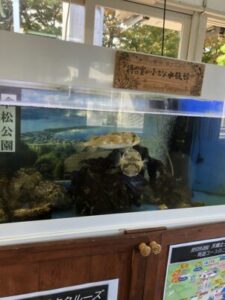 A little before the time, we will move to the boarding area.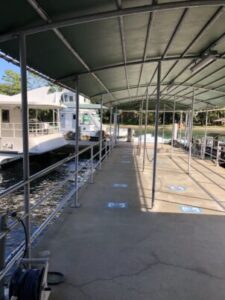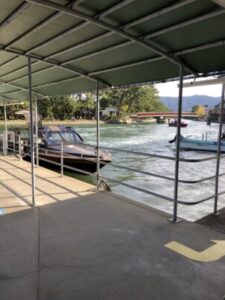 The red bridge in the back is a "turning bridge. The red bridge at the back is the "turning bridge", which rotates to allow the passage of the ships used by Nippon Yakin to transport raw materials for stainless steel.
↓The Nippon Yakin ship is passing by.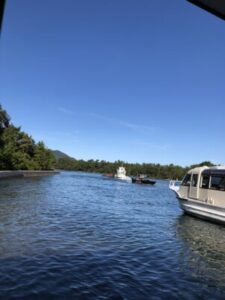 We boarded the sightseeing boat, where we could sit in chairs on the first floor and be sheltered from the wind, but of course we had to go upstairs!
We climbed up the spiral staircase to get on the boat.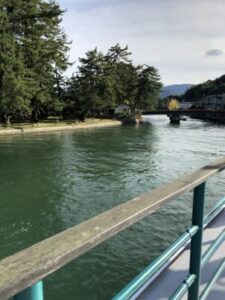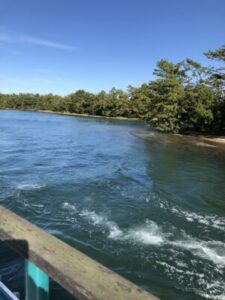 Whoa! It's starting to move.
It's a little bumpy.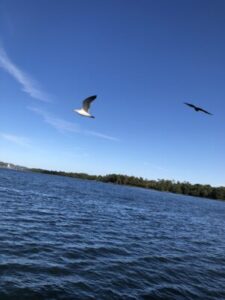 A seagull immediately came by.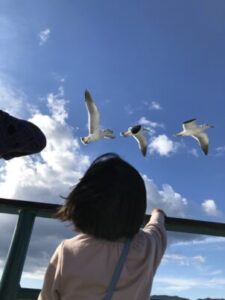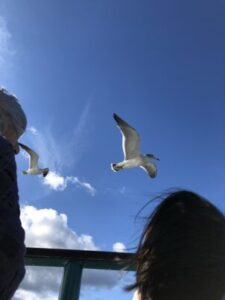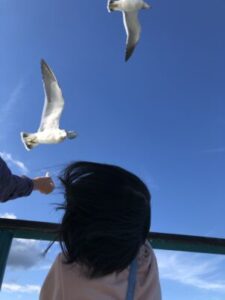 If you hold the Kappa Ebisen with the tips of your fingers, the seagulls will eat them directly and skillfully.
It's fun!
How good the seagulls are at eating!
It's not so much about the view… no, the view is very nice!
But more importantly, feeding the seagulls is so much fun!
I forgot about the time and enjoyed "cawing".
I wasn't the only one to hear the yellow cries of the seagulls, and some of the women on board were so surprised by the number of seagulls and the way they came at us that they covered their heads.
Best shot of my grandpa feeding the seagulls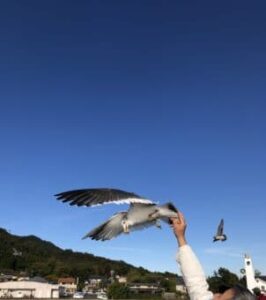 My eldest daughter (6) was overjoyed to have the experience of eating Kappa Ebisen directly from her hand.
The seagulls seemed to have a hard time taking the food from the hands of the children, who were in a lower position than the adults because the adults were taller, but they did eat from my daughter's hands twice.
My second daughter (2) was too scared to feed the seagulls on the way to the park, but she got used to it on the way back and enjoyed sprinkling Kappa Ebisen in the sky and sea.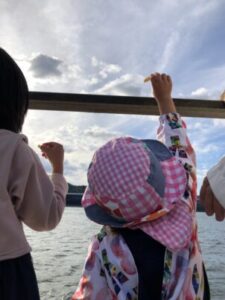 And the seagull, he catches the dancing Kappa Ebi-sen very well!
Amazing!
We were so busy watching the seagulls that we arrived in no time at all.
The one-way trip takes 12 minutes.
When we arrived at Ichinomiya Pier, we went into a nearby souvenir shop and general store to kill time.
The sightseeing boats leave every 30 minutes, so it's just the right amount of time to take a break.
I bought some soft-serve ice cream and ate it, just in time for the return boat to leave.
Kappa Ebi-sen was also sold at the souvenir shop.
A small bag of them cost 50 yen.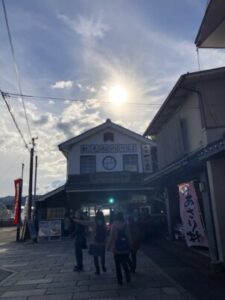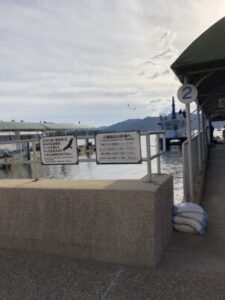 This is the boarding area for the return trip.
The sign says, "For those who have food in their hands, please be careful as dragonflies may come after you.
As you can see, on the way back to the ship, we had a rough time with the dragonflies!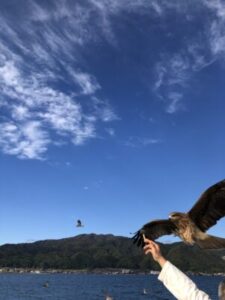 On the boat ride back, of course the seagulls would come and visit us, but they would eat directly from our hands. Only dragonflies!
After a while, the seagulls disappear and the dragonflies swarm in.
Scary!
And it hurts!
Aren't you too good at eating dragonflies?
My fingertips hurt so much after the dragonflies ate them up so fast!
The tips of their wings also hit me, and I'm pretty sure they chewed my fingers too!
My grandpa's finger was bleeding after this photo!
The evening scenery on the way back was also beautiful.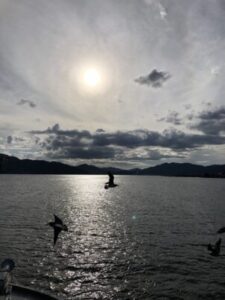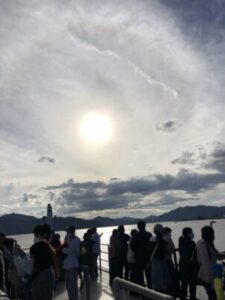 I'm back in Amanohashidate!
On the way to Chion-ji Temple from the sightseeing boat terminal, there is a "Circle of Wisdom".
It is said that if you go through it three times, you will get smarter.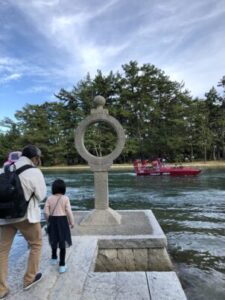 We'll stop here, too.
I'm going to Chionji Temple.
A rare pine tree at Chionji Temple in Amanohashidate
There is a rare pine tree at Chionji Temple.
The leaves of a pine tree are divided into two parts, and there are two pointed leaves.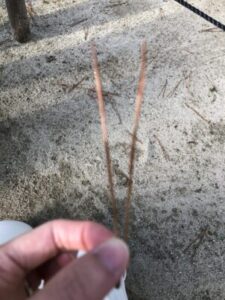 Like this
Only this one pine has three leaves!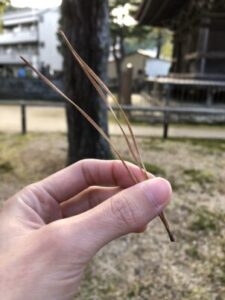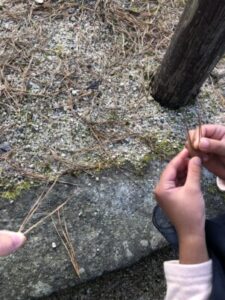 This pine tree.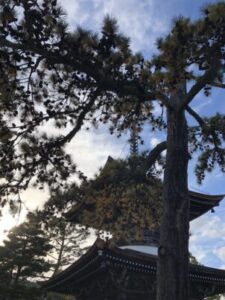 This pine tree had leaves so high up that I could only pick up the fallen leaves!
From Chionji Temple to Amanohashidate Station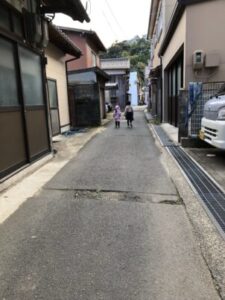 Since we were returning by train, we walked to Amanohashidate Station again.
That was fun.
The seagull feeding on the sightseeing boat is too interesting to be enjoyed by children and adults alike.
summary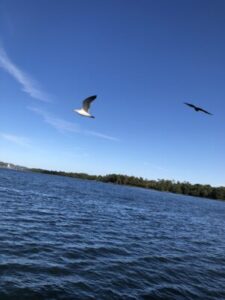 The seagull feeding experience on the Amanohashidate sightseeing boat is fun for children and adults alike.
I enjoyed it so much that I distracted myself from the scenery.
Be careful of the dragonflies.
It is best to refrain from feeding the seagulls directly when they are flying nearby, but they are very good at eating Kappa Ebisen.
I've walked along the pine trees of Amanohashidate many times, and I've also visited Kasamatsu Park and Viewland, and I recommend them, but I think you should experience this "sightseeing boat" at least once! It's really fun!
It's really fun.
I personally recommend it!
My grandfather and grandmother who went with me said, "The steamer is fun.
My grandfather (my father) and grandma (my grandmother, 87) who went with us said over and over, "Steamships are fun.
I found out that my grandma (my father) and grandpa (my grandmother, 87 years old) had said many times, "Steamships are fun.
I've been to Amanohashidate many times, but this was my first time on a boat.
If you ever come to Amanohashidate, I would like you to try feeding the seagulls on a sightseeing boat.